YDT, CAT to mold youth's physical, mental resilience: DepEd exec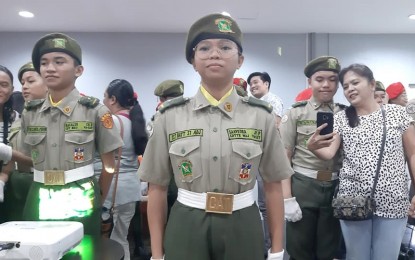 CITIZENS ARMY TRAINING. A high school student of the Cebu Institute of Technology-University
stands in attention in this undated photo. Department of Education (DepEd)-Central Visayas regional director Salustiano Jimenez on Thursday (May 19, 2022) said the Youth Development Training and Citizens Army Training molds the youth to become physically and morally resilient and equip them with necessary skills. (PNA photo by John Rey Saavedra)
The top education official in Region 7 on Thursday said he is in favor of reviving the Youth Development Training (YDT) and Citizens Army Training (CAT) in high school, saying it will mold the youth's resiliency towards physical and mental challenges.
Salustiano Jimenez, Department of Education (DepEd)-Central Visayas regional director, said in a radio interview these types of training will also equip the future generation with the necessary skills to face any forms of challenges and adversities in life.
He sees YDT and CAT as morale boosters for the younger citizens, as these service training on high school campuses will mold a nationalistic and patriotic citizenry.
In 1973, YDT was offered for 1st year to 3rd year high school students while CAT was for the 4th year.
Jimenez said students who underwent YDT and CAT were found to be more physically and morally resilient.
"It is not necessary that we will all be serving the military. But in our personal capacity, in our family, the training that we went through can be useful, like me as a father, as a family man, and as an official of the government. I hope that my kids will experience the same training that I got," Jimenez said, adding that he noticed his children who have not experienced YDT or CAT would easily get tired.
The said training will equip the younger sector with the mechanisms to cope with the challenges in life and avoid being "demoralized or being toppled down by the crisis," he added.
Jimenez's remarks came amid talks on the revival of CAT in junior high school and Reserve Officer Training Corps for senior high school, following the election of Davao Mayor Sara Duterte as presumptive vice president.
Meanwhile, Jimenez said DepEd-7 welcomes Duterte as their chief should the presumptive president, Ferdinand "Bongbong" Marcos Jr. finally decides to appoint her as the next Secretary of Education. (PNA)