National Schools Press Conference (NSPC) Guidelines for the Online Publishing Contest
NSPC Guidelines for the Online Publishing Contest
Each Region shall organize a team of five (5) members who shall not be competing in any of the individual and group contests. There will be one team for English and another for Filipino for the secondary level only.
The competition is designed to encourage teamwork among campus journalists and simulate the workplace of an editorial department in an online publishing house.
All contestants are required to attend the one (1) hour orientation before the actual competition.
Once the contest has started, members of each team shall no longer be allowed to go back to their quarters nor communicate in all forms (text, call, chat, etc.) with their respective advisers until the end of the contest.
A mini press conference will be held to become the basis for the actual writing of the editorial, feature and news articles. The sports writers shall attend coverage of an actual sports event. The photojournalists shall take pictures/videos of the mini press conference while the rest of the team is doing write-ups, layouting and editing. The team will be given two (2) hours for layouting and editing. Sports writers and photojoumalists must be ready to watch an actual game where they shall gather appropriate data and/or conduct interview before and after the game. A pre-game conference shall be conducted for the introduction of the players, coaches, and tournament officials. Consequently, a post conference shall be held for further interview and data gathering.
A total of four (4) hours is allotted for data gathering, writing, layouting, editing of articles online after the creation of an online publication using the official platform determined by the organizers.
Specific instructions on the number of articles to be produced will be given during the orientation.
Each team will be required to bring one scanner, at least two digital cameras, and a maximum of (4) laptops installed with Photoshop for image enhancement.
All contestants shall submit laptops cleared of stored documents including prepared templates or any pre-written files or references therein.
Submission to the NTWG shall be on February 16, 2020 (up to 5PM only).
Failure to submit the laptops on/before the set deadline shall mean disqualification of the competing team.
Laptops with files shall not be allowed during the competition.
Each team shall bring two (2) pocket wifis or routers (preferably with two different networks) and extension cord.
The host region will provide six (6) scanners for the competition (three for Filipino and three for English).
Each group shall submit their URL to the assigned examiner.
The top (7) seven teams shall be recognized and the points will be included in the determination of the overall standing. All competing teams shall be given points and ranked accordingly.
The decision of the Board of Judges shall be deemed final and irrevocable.
National Schools Press Conference (NSPC) – Score Sheet for the Best Online Publishing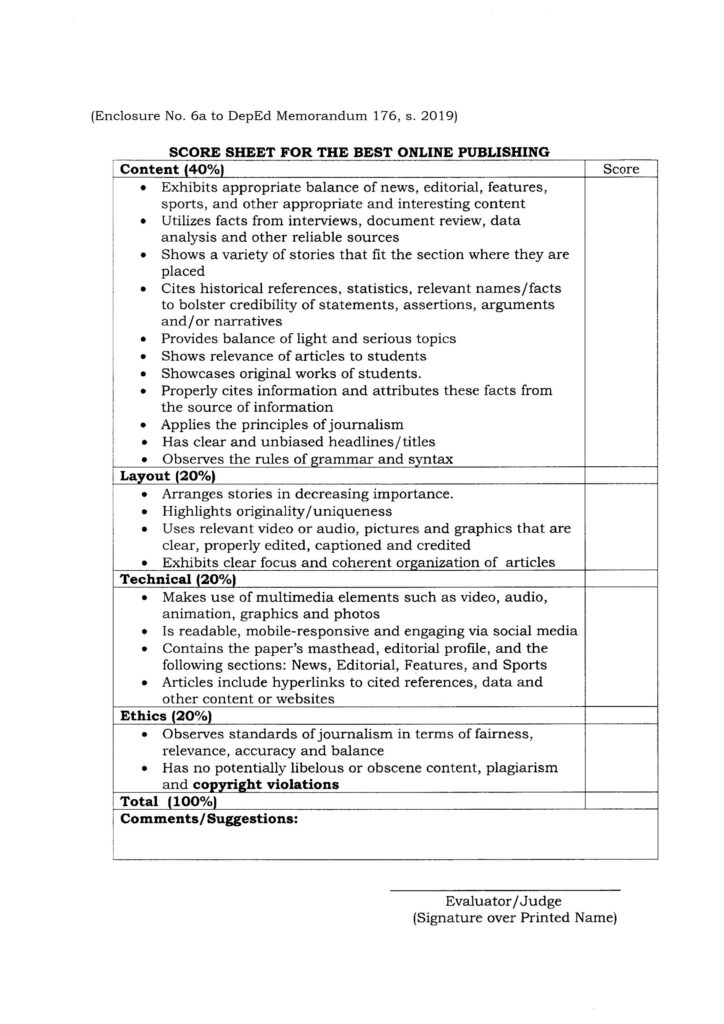 Comments: