Teaching aids to boost learners' aptitude in Zambales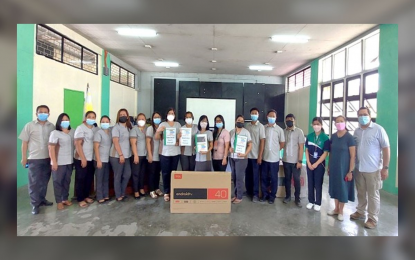 TEACHING AIDS. The Department of Science and Technology-Central Luzon (DOST-3) has provided teaching aids to four more public schools in Zambales. The beneficiaries received interactive multimedia audio-visual teaching aids including a 40-inch, high-definition, light-emitting diode television. (Photo courtesy of DOST-3)
The Department of Science and Technology-Central Luzon (DOST-3) has provided teaching aids to four more public schools in Zambales.
The interactive multimedia audio-visual teaching aids were given to Nagbayan Elementary School, Buenavista Elementary School, Balaybay Resettlement Elementary School, and Castillejos Elementary School, all in Castillejos, Zambales.
Each school received a set of teaching aids which also included a 40-inch, high-definition, light-emitting diode (HD LED) television.
DOST-3 Regional Director Julius Caesar V. Sicat said on Friday the interactive multimedia audio-visual teaching aid is especially suited in areas where access to the internet is absent.
It contains lessons in science and mathematics which are curriculum-based and is easy to use for both teachers and learners, Sicat said.
Meanwhile, Mario M. Celis, coordinating principal of the Department of Education (DepEd) Castillejos District, thanked the DOST for the assistance, which, he said is a big help for both teachers and learners.
"In today's situation, wherein education is at the highlight of transformation, the Castillejos District is so grateful and blessed to receive this interactive multimedia audio-visual teaching aid. This will be of great help for both the teachers and learners. It will surely boost the academic performance of our learners as our teachers can introduce new topics easily and will make the class more interesting, dynamic, and effective. Again, thank you so much for these gifts and we pledge to utilize these for the betterment and progress of the learners," Celis said in a statement.
So far, a total of 18 schools in Zambales have received the teaching aids, and an additional 16 more are scheduled to be delivered within the year.
This project is a component of the Community Empowerment through Science and Technology (CEST) program of the DOST which had been funded by Sen. Joel Villanueva since 2018. (PNA)