Sara to uplift quality of education, spox tells Hontiveros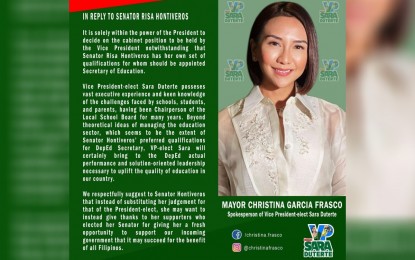 (Photo from Christina Garcia Frasco Facebook Page)
The spokesperson of presumptive vice president Sara Z. Duterte has slammed Senator Risa Hontiveros for questioning the qualifications of the designated Department of Education (DepEd) secretary, saying Duterte would uplift the quality of education in the country.
"Vice President-elect Sara Duterte possesses the vast executive experience and keen knowledge of the challenges faced by schools, students, and parents, having been (the) chairperson of the Local School Board for many years," Liloan Mayor Christina Frasco said in a statement Friday evening.
In an interview over ANC's "Rundown" on May 12, Hontiveros said an education expert should head the DepEd and that she did not have any idea about Duterte's track record.
"Beyond theoretical ideas of managing the education sector, which seems to be the extent of Senator Hontiveros' preferred qualifications for DepEd Secretary, VP-elect Sara will certainly bring to the DepEd actual performance and solution-oriented leadership necessary to uplift the quality of education in our country," Frasco added.
She said it is solely within the power of the president to decide on the Cabinet position to be held by the vice president.
"We respectfully suggest to Senator Hontiveros that instead of substituting her judgment for that of the President-elect, she may want to instead give thanks to her supporters who elected her senator for giving her a fresh opportunity to support our incoming government that it may succeed for the benefit of all Filipinos," Frasco said.
In a televised speech on May 11, presumptive president Ferdinand "Bongbong" Marcos Jr. announced that Duterte has agreed to take the helm of the education department.
Marcos said one of the reasons he appointed Duterte as the next education secretary is her role as a mother who wants to "make sure that her children are well-trained and well-educated." (PNA)